Prodcut Details
Name: Calcium Lignosulphonate
CAS No.: 8061-52-7
MF: C20H24CaO10S2
Usage: Can be used as dispersant, emulsifier, wetting agent, etc. Used for industrial detergents, pesticides, herbicides, cement and concrete Water Reducing Agent, admixtures, dye diffusion agent, coke and charcoal processing, dyes and pigments, petroleum industry, wax emulsion, ceramics, etc.
Calcium Lignosulfonate is a multi-component polymer anionic surfactant, the appearance of light yellow to dark brown powder, slightly aromatic smell, molecular weight is generally between 800 ~ 10000, has a strong dispersion, bonding, chelation. Spray drying of waste cooking liquid, usually from acid pulping or sulfite pulping. Can contain up to 30% reducing sugar. Soluble in water, but insoluble in any common organic solvent. The pH value of 1% aqueous solution is about 4 ~ 6.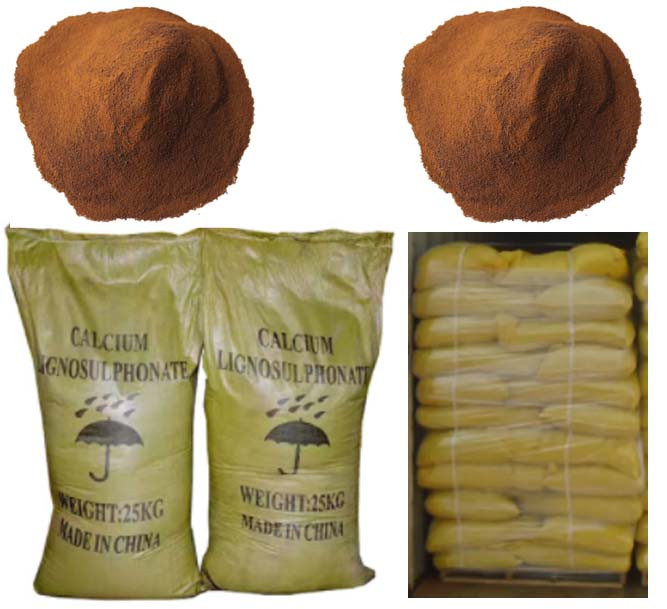 Specification
| | |
| --- | --- |
| Product name | Calcium lignosulfonate |
| Molecular formula | C20H24CAO10S2 |
| Molecular Weight | 528.61 |
| Appearance | brownish yellow powder |
| Lignin content | ≥50 ~ 65% |
| Water insoluble matter | ≤0.5 ~ 1.5% |
| PH | 4-6 |
Application
1. Used as concrete water reducer
Cement content of 0.25 ~ 0.3%, can reduce the water consumption of 10 ~ 14 above, improve the workability of concrete, improve the quality of the project. Summer use, can inhibit the slump loss, usually combined with efficient water reducing agent.
2. Used as mineral binder
Smelting industry, with calcium lignosulfonate mixed with ore powder, made of ore powder ball, dry into the kiln, can greatly improve the smelting recovery.
3. Used as refractory
Using calcium lignosulfonate as dispersant and adhesive in the manufacture of refractory bricks and tiles can significantly improve the operation performance, reduce water, strengthen, prevent cracking and other good effects.
4. Used as ceramic
Calcium lignosulfonate used in ceramic products, can reduce carbon content increase green strength, reduce plastic clay dosage, mud flow is good, improve the yield of 70-90%, sintering speed from 70 minutes to 40 minutes.
5. Used as a feed binder
Can improve livestock and poultry feeding, particle strength is good, reduce the amount of micro powder feed, reduce powder return rate, reduce costs. The loss of mold was reduced, the production capacity was increased by 10-20%, and the allowable content of feed in the United States and Canada was 4.0%.
6. Other industry
Calcium lignosulfonate can also be used for refining auxiliaries, casting, pesticide wettable powder processing, briquette suppression, mining, mineral dressing agent, road, soil, dust control, Leather Tanning packing, carbon black granulation and so on.